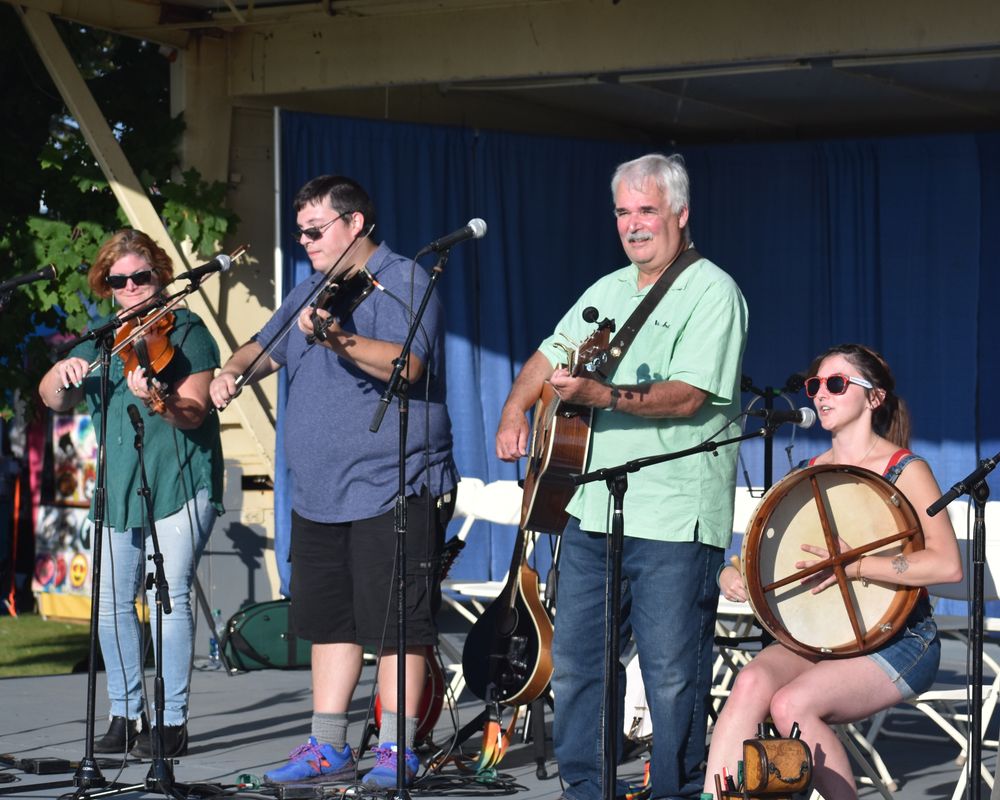 O'hAnleigh
Vermont musicians sharing their love for Irish music. 
O'hAnleigh is folk with roots that rock.
From elegant weddings to mug-smashing pub sets, steampunk iron rails to renaissance woodland magic, history fairs to farmers markets, O'hAnleigh plays Irish-American music that hits home all over the world. 
Ancestral roots and diverse musical talent blend to create lively and haunting rhythms of Irish-American culture that keep O'hAnleigh audiences' toes tapping and hands clapping from pubs to churches to concert halls across New England, on radio and around the globe. O'hAnleigh's peppy, upbeat sound is welcome at pubs, folk festivals, and family performances, and our unique emphasis on Irish literary traditions entertain the listener with rousing story-songs, but also leave a heightened sense of Irish-American culture and history.
O'hAnleigh's premier CD "Of Irish Crossings Told" featuring celt classics like Black Velvet Band and four all-original pieces is playing in over 32 countries, generating rave programmer and listener reviews.
O'hAnleigh's second CD, "Farewell Roscommon" is seeing increased digital distribution as O'hAnleigh moves into new global music markets. 
Their third and fourth CDs, "Winds of Change" and "Come to the Faire" were released in 2019, and brought their original and authentic immigration-era music on tour in England. 

Their fifth disc, "Faerie Tales" was also released in 2019, featuring two new children's songs and a selection of story-song favorites from their other albums. All profits from Faerie Tales are donated to the Vermont Fairy Tale Festival, a family literary event sponsored by the Vermont State Libraries.  
Tom Hanley, a second-generation Irishman descended of immigrants from Counties Laois and Roscommon, performed with bar rock bands since the early 1970's. When asked by a social organization to perform some Irish music at a St. Patricks Day event in 2002, he enlisted his then 12-year-old daughter Becca, counting on her ethereal soprano to evoke visions of Ireland past. For the next year, Tom and Becca performed at fairs, Irish clubs, farmers markets, and social events.
In early 2003, fiddler Cindy Hill joined the father-daughter team. Cindys ancestors hail from Counties Tyrone and Limerick. Her musical credentials range from school orchestra and chorus to a succession of party rock bands, and her interest in traditional Celtic music sprang from her long political activism in the Irish independence movement. Cindy brings a knowledge of Celtic mythology and legends to the band along with her multi-instrumental talents.
In 2019, Matt Bean, a veteran of Mark Sustic's Fiddleheads program and Vermont bands from Trinity to Longford Row to the Cop Outs, joined forces with O'hAnleigh, adding to the band's vocal harmonies, fiddle tunes and array of other stringed instruments. 
From classic Gaelic ballads to rollicking pub songs, Irish-American tin pan alley tunes to traditional dance sets, songs of rebellion to songs of love and loss, OhAnleighs vocal talents combine to create the unique OhAnleigh sound, supported with a dazzling array of instruments including 6 and 12 string guitars, bouzouki, mandolin, bass, fiddle, tenor banjo, penny whistles, harmonica, bowed psaltery, dulcimer, autoharp, bodhrans, bones, spoons, and a whole assortment of other small percussion, much of it hand-made out of odd bits of things found in the garage to get just the right sound for a particular song.
O'hAnleigh's playlist now numbers in the hundreds, including a hearty dose of rebel tunes and a growing list of original pieces, as the band composes music and lyrics to expand the Irish-American folk genre. Their performances are noted for the rapid-fire pace of their song list, as well-rehearsed instrument changes and dramatic or humourous pieces of the spoken word (Irish poetry) blend one song into the next for a non-stop set of musical energy.